My opinion on :
The 24Bottles insulated bottle
There are many advantages of purchasing an insulated bottle, especially the fact that you can completely discard plastic bottles. Remember that a reusable bottle means about 150 fewer plastic bottles thrown away over the course of a year! If, in addition, the bottle you buy is designed in an environmentally friendly way, as is the case with all 24Bottles, you are making an ecological contribution each time you fill your water bottle.
And there's no reason why you can't take other types of drinks with you. The advantage of a stainless steel bottle is that you can take both hot and cold drinks with you. As a general rule, you can keep your drinks hot for up to 12 hours with the insulated bottle. So you can also take tea or coffee with you. You can even take soup with you if you take your meal to work.
It is for all these reasons that I chose to buy an insulated bottle. I will explain here why I chose to buy a 24Bottles insulated bottle.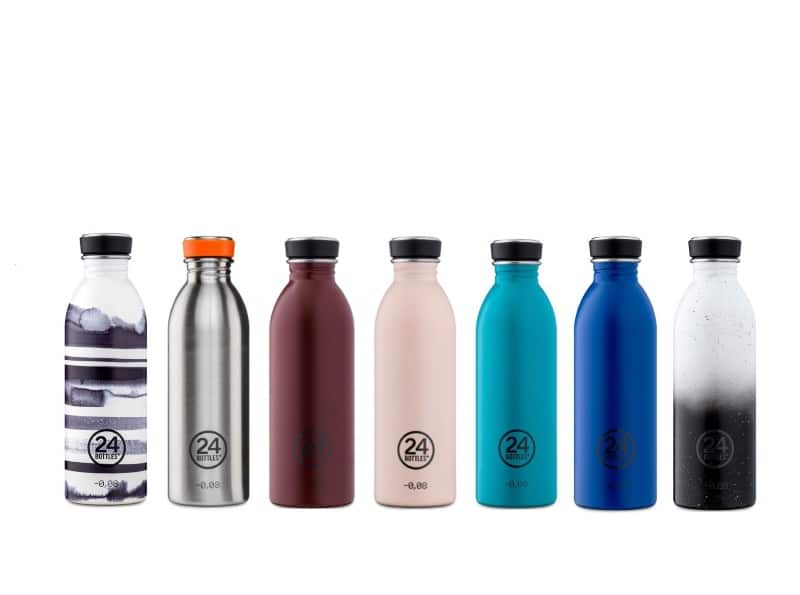 How to choose an insulated bottle ?
How do you choose an insulated bottle among the different models available on the market? To answer this question, I have gathered the criteria which seem to me to be the most important when you decide to buy an insulated bottle:
⇨ Type of materials: the best insulated bottles are made without plastic and BPA. In stainless steel or glass.
⇨ Holding time of cold/hot liquids: The best insulated bottles keep drinks hot for 12 hours and cold for 24 hours.
⇨ Sealing: it is important to choose an insulated bottle that is perfectly leakproof, so that you can carry it everywhere every day!
⇨ The sizes and weight of the bottle.
Characteristics of the 24Bottles eco-friendly insulated bottle
The 24Bottles bottle and its cap are made of stainless steel. With a double wall design this bottle can keep your drinks hot for 12 hours and cold for 24 hours without the need for additional accessories. The outside will remain at normal temperature regardless of the temperature of the contents.
Note that 24Bottles offers several models of insulated bottles, including Clima Bottle, Travel Tumbler, Infuser Bottle and Urban Bottle. All are available in a wide range of colours and original designs. Depending on the model, their capacity ranges from 250ml to 1 litre.
However, all models are of equal quality. They are all leakproof and free of BPA, phthalates, lead or other toxic materials that can alter the taste of your drinks.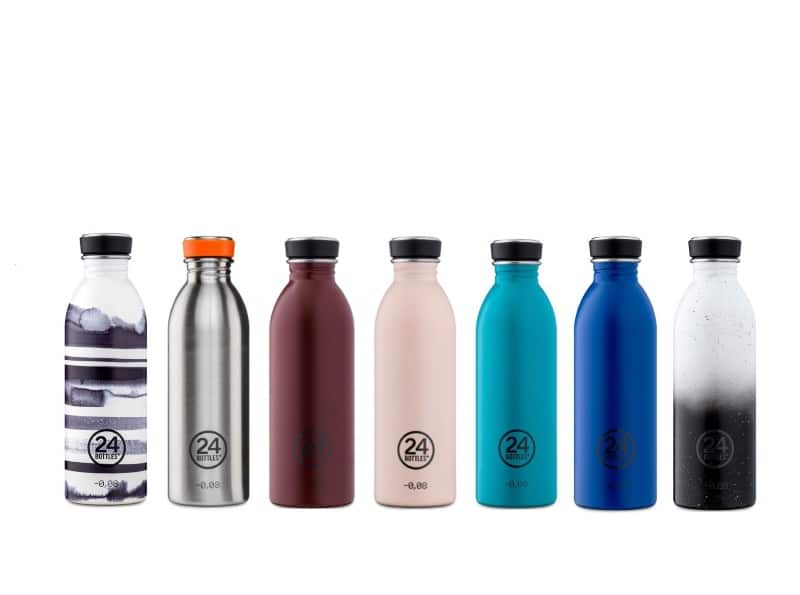 Why I chose a 24Bottles insulated bottle ?
All in all I think the 24Bottles are very well designed. Very strong, perfectly leakproof, resistant, light with a good capacity and a good debit. So they are perfect to take everywhere every day!
Overall I am very satisfied with this bottle. It is easy to clean and allows me to carry cold or hot drinks, sometimes even soup, every day.
But what really made me decide to choose the Clima Bottle is the ecological approach of 24Bottles. Who calculated the carbon footprint of their bottles, from raw material to production, and from packaging to transport. The total volume of their CO2 emissions is absorbed by the trees planted in Oxygen, their forest. An ever-growing forest of cocoa, orange, coffee, avocado and mango trees across six countries. In this way, 24Bottles is helping to make the entire life cycle of its insulated bottles completely carbon neutral.
Are insulated bottles really useful ?
Altogether I find that buying an insulated flask has only advantages. But the main advantage in my opinion, and the one that really made me decide to buy one, is that it is made entirely of stainless steel. This is one more step towards zero plastic, and as a result I also reduce my production of single-use waste significantly.
Bottled water also represents a considerable budget. The price per litre of bottled water is on average 0.50 € (mineral and spring water). While the average price of tap water is 0.003 € per litre! So just fill your insulated bottle with tap water and save money. That's about 200 € of savings over a year.
Where to buy your eco-friendly insulated bottle at the best price ?
You can find this type of bottle everywhere. However, insulated bottles are mainly sold in hiking equipment shops or shops selling wellness products. On the other hand, prices are often quite high in these shops.
So, I recommend to buy online instead. Just go to 24Bottles website to discover their very large selection of insulated bottles at very interesting prices. Moreover, the delivery is free everywhere in the world from 49€ of purchases.