Buying guide :
Ocean Bottle
With the purchase of an Ocean Bottle insulated bottle you make an ecological gesture every time you fill your water bottle. In fact, a reusable bottle is about 150 less plastic bottles thrown away over a year!
The production of plastics has increased exponentially. It rose from 2.3 million tons in 1950 to 162 million tons in 1993 and to 360 million tons in 2018. Today, 73% of the waste on beaches around the world is plastic. However, only 20% of this waste is collected for recycling, and among it, mainly packaging.
That' s why I chose to buy an insulated bottle. Here I explain why I chose the Ocean Bottle upcycled plastic ocean-bound bottle.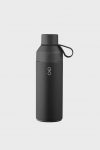 How to pick an insulated bottle ?
How to chose an insulated flask among the different models available on the market? To answer this question, I have gathered the criteria which seem to me to be the most important when you decide to buy an insulated bottle:
Type of materials: the best insulated bottles are made without plastic and BPA. In stainless steel or glass.
Cold/hot liquid holding time: most isothermal models can keep beverages hot for 12 hours and cold for 24 hours.
Waterproofness: it is important to choose an isothermal flask that is perfectly watertight, so that you can carry it everywhere every day!
The dimensions and weight of the gourd.

Features of the Ocean Bottle insulated bottle
Today, up to 80% of the plastic in the oceans comes from a lack of waste management infrastructure in coastal communities around the world. That's why Ocean Bottle is committed to collecting the equivalent of 1,000 plastic bottles every time one of its water bottles is sold.
This eco-friendly bottle is made of recycled stainless steel, recycled plastic (removed from the ocean) and a silicone loop. All these materials are fully recyclable. Designed in association with K8 Design in Norway, a country known for its circular thinking approach. The stainless steel bottle is also a winner of the Red Dot 2020 and Green Product 2020 awards.
Thanks to its "vacuum-insulated" design it can keep your drinks hot for 9 hours and cold for 18 hours without the need for additional accessories.
Also note that the Ocean Bottle is dishwasher safe, easy to fill and easy to clean. It is available, to date only with a capacity of 500ml and in 7 colors:
Ocean Blue;
Rock Grey;
Forest Green (like mine);
Obsidian Black;
Sun Orange;
Sky Blue;
Together Bottle (special edition to raise awareness and funds for UN Goal 14 for sustainable water development).
What is social plastic ?
Social plastic is the name given to a project launched by David Katz and Shaun Frankson, the founders of The Plastic Bank. The aim of the project is to monetize plastic and transform it into a source of income for poor people.
The Plastic Bank finances itself by selling the collected plastic to companies that see the potential to make products created from the plastic collected by the poor and which, in this way, has been prevented from entering the ocean. The first centre was established in Lima, Peru.
First, plastic waste is collected by residents of coastal communities who can then exchange it for digital tokens. After being collected, the plastic is weighed, then sent for recycling and transformed into a new raw material called social plastic.
Finally, this plastic will be used to make new sustainable and ethical products such as the reusable Ocean Bottle.
My opinion about the Ocean Bottle
Overall I am very much pleased with this insulated flask. It is easy to clean, it is indeed one of the few insulated bottles that can be put in the dishwasher. I also find its double opening very practical, to fill it with hot or cold drinks or even ice cubes.
It is perfectly watertight and its silicone buckle is really functional. What I like a little less, however, is that it is currently only available with a 500ml capacity. However, Ocean Bottle plans to release a larger version soon.
But what made me decide to go for the Ocean Bottle bottle is the eco-friendly approach of the brand. It is even possible to receive spare parts for the life of your bottle, so that it continues to be as efficient as possible for a very long time.
Where can I buy the Ocean Bottle ?
You can find this type of bottles just about everywhere. In the hiking stores the prices are, on the other hand, often quite high. That's why I recommend to buy them online.
Please note that Ocean Bottle ships by tracked mail worldwide and that all packaging is recycled and 100% recyclable.